Well the Oregon Flock and Fiber Show was a success!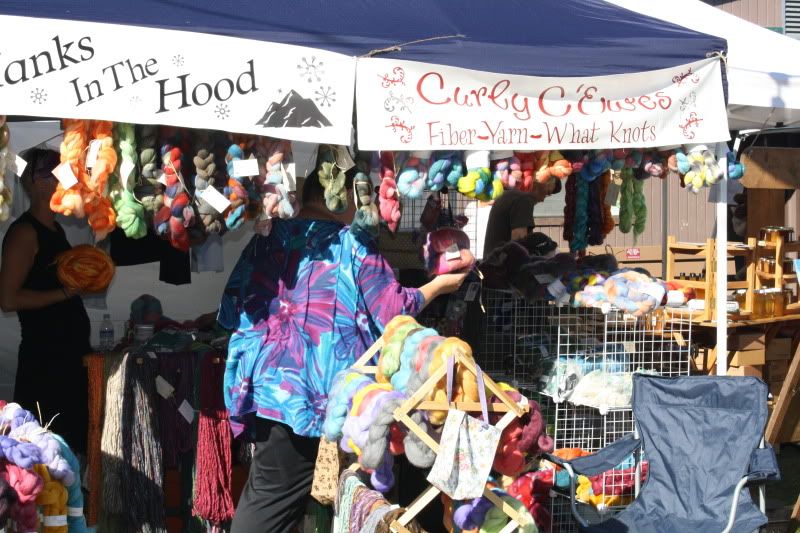 Jen and I had such a great time there while being in the company of so many other wonderful fiber fanatics! I had a chance to meet a lot of new faces through Jen. She has been in the fiber industry for I don't know how many years and she was nice enough to introduce me to some folks. Everyone was so welcoming and friendly. There were many names I recognized too from Ravelry and I had to chance to see everyone's work in real life. I also volunteered to photograph the festival and I have to say I enjoyed it tremendously. I had a chance to use my Rebel and anytime I get a chance I love using my new camera. Here is a link to those photos here
OFFF
We had a beautiful sunny day on Saturday and even complained a bit about it being too hot. Well, we must have complained too much because Sunday greeted us with some Oregon rain. We had a few moments of sunshine and took advantage of them while moving our yarn display out. Sunday also hosted the parking lot fleece sale. I would have bought more probably if it weren't for the rain but I did manage to get a lovely lincoln fleece and some beautiful mohair curls. I am not fond of raw fleece, but I was able to get one that wasn't too dirty and I actually used the washer to clean it. It worked out really well, so I will definitely try that next time. I sooo love the mohair curls, they were already washed and I am wanting to dye some in a variety of deep rich colors. I did however use some of them in my first ever needle felting project, my little sheep. She's a beauty and I had so much fun creating her. I took her to work with me and she now resides on my desk so I can look at her sweet little face just about everyday.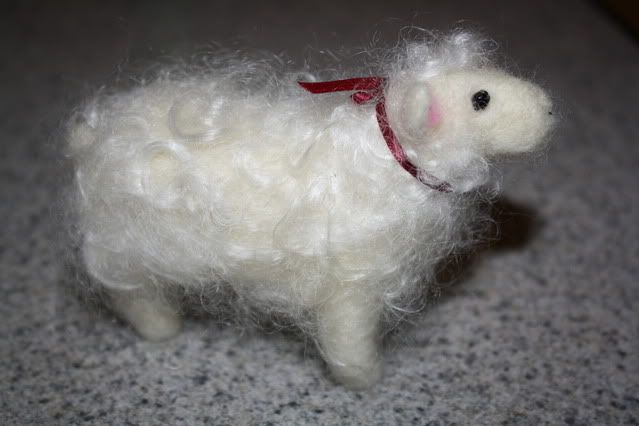 I have also been spinning like crazy trying new techniques. I was able to do a coiled yarn and my next thing to try will be to corespin. I have attempted it once, but had to go back to youtube to see more demonstrations. So for the crafty side of my life all is going great :) I am so still in love with fiber and my spinning wheel. I also made melt and pour soap this summer and worked on some jewelry projects and felting items. I have also been thinking about my gift list for the holidays and hope to be on top of it this time. It will be a totally handmade Christmas! As for my home life, the boys went back to school last month. We had a few milestones happening too, Connor is my senior in high school and Quinn officially started middle school. I only have one left in elementary school! Where has all the time gone? I usually don't think about how busy my life is as a single parent until times like these and all I can do is just "breathe!" tata for now :)